Full Bathroom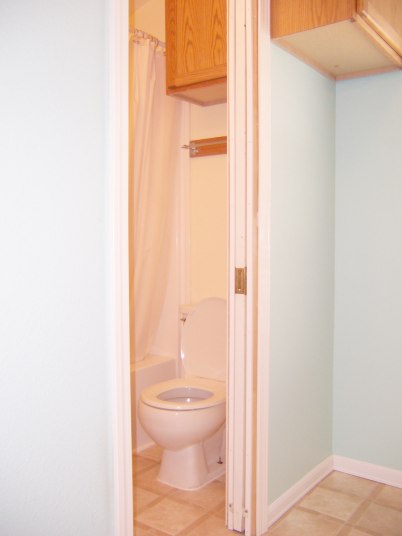 Bathroom has regular toilet.

---
Bath has Pocket Door to Utilize All of Space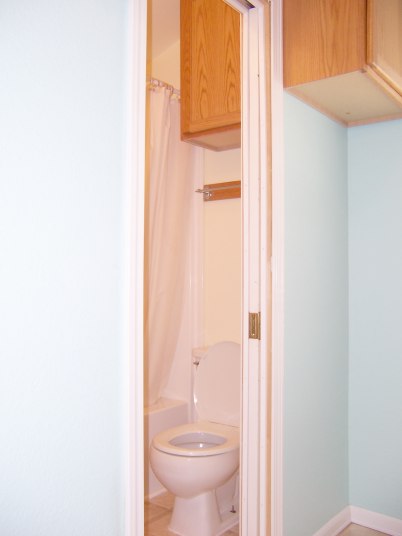 Pocket door allows full use of wall space in bath and kitchen.

---
Closet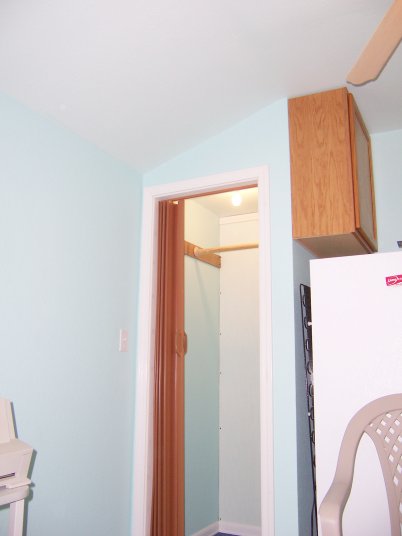 The closet is extra deep to leave room for a tankless water heater and still have plenty of room for clothes.

---
Living Room Seen From Kitchen
Living room has blue carpet.

---
Kitchen 1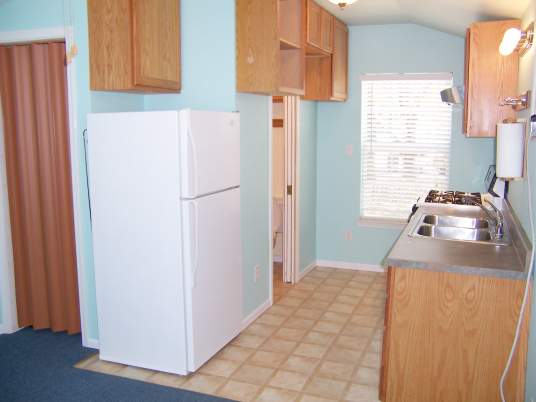 We put a medium size refrigerator in, but left enough space for a large refrigerator later. The cabinet adds extra storage but can be easily removed if necessary for a taller refrigerator.

---
Kitchen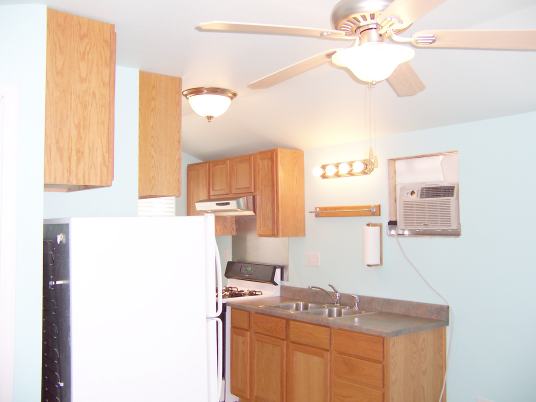 Kitchen has full stainless double sink with garbage disposal and sprayer.

---
Kitchen - Another View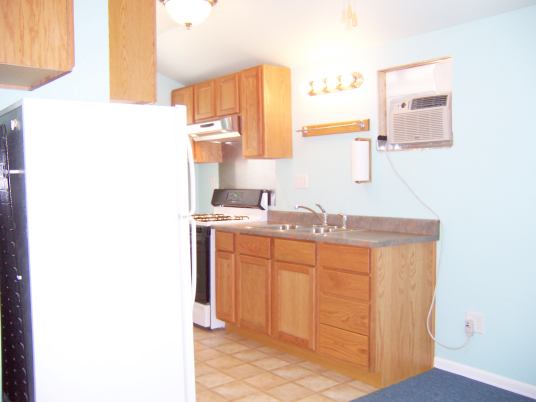 Because this building has really good air flow with the windows open when its cooler, we installed the AC in the wall instead of a window.

---
Folding Door on Closet Saves Space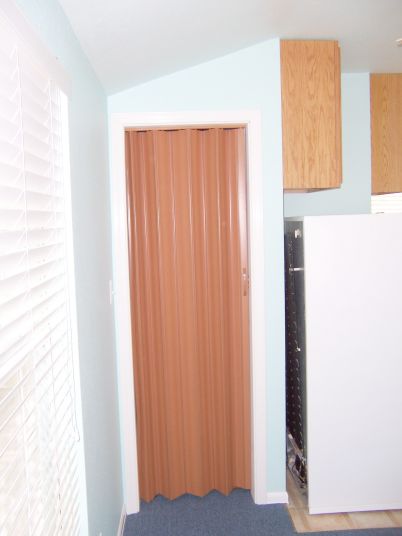 Since this is just a closet and a pocket door was impossible here, we used an accordion folding door to maximize wall space.

---
Miniblind Unit on Door Half Closed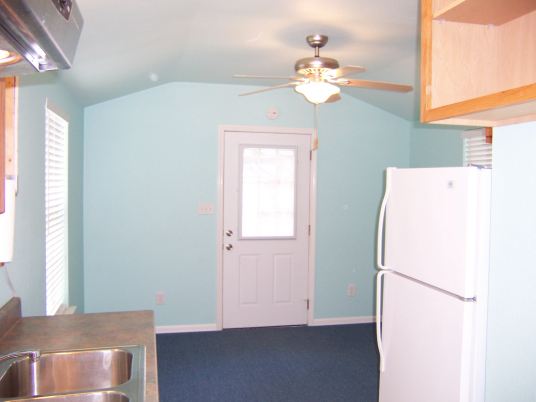 Removable miniblind unit on door allows for replacement of miniblinds without buying new door.

---
Miniblind Unit on Door Fully Closed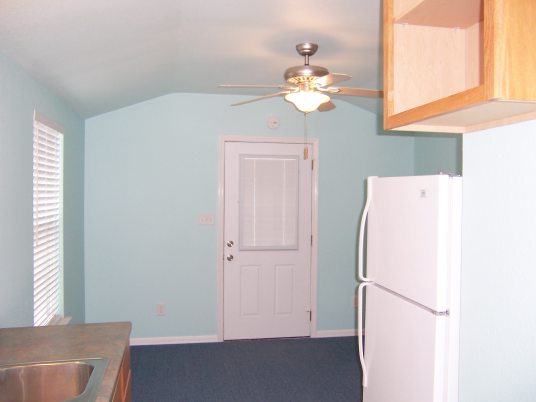 Glass unit keeps out dust so that only glass needs cleaning. Side controls open, close and raise blinds

---
Wide White Blinds - Easy to Clean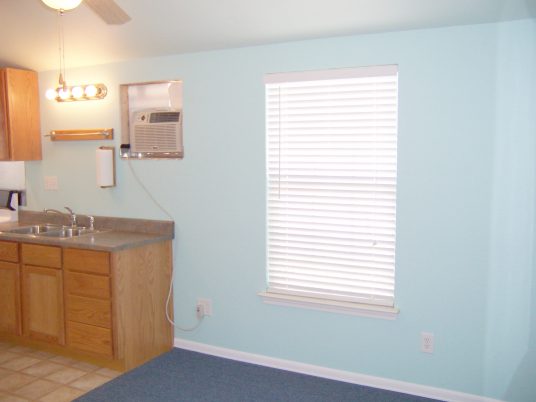 All of the windows have blinds and wood window sills.

---
Ceiling Fan in Living Room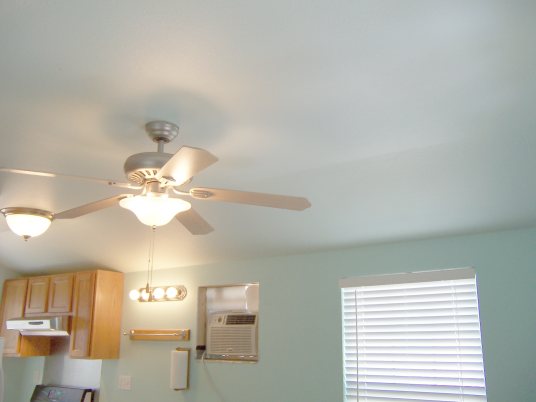 Ceiling fan cools whole living room. Kitchen has hood vented outside. Bath has fan vented outside.

---
Lots of Extra Cabinets for Storage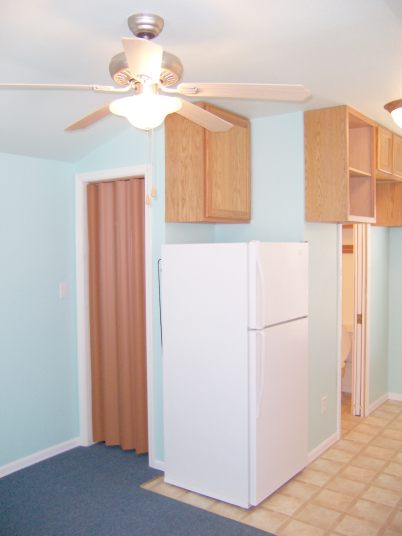 To maximize storage space we installed all the extra cabinets we could find space for.

---
Window on Other Side of Living Room
Cable outlet and network cable shown.

---
Door and Switches for Light, Fan and Outside Motion Sensor Light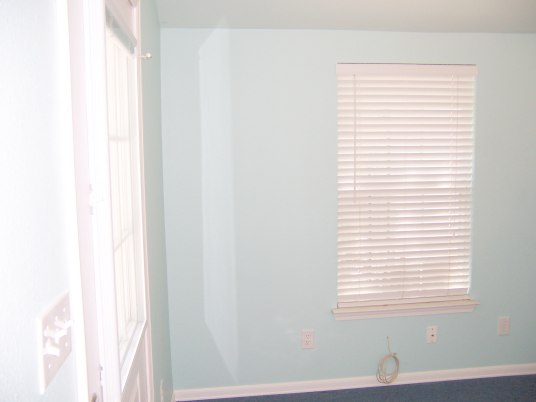 Switches next to door are for ceiling fan and light, and for outside light at entrance.

---
End View of Kitchen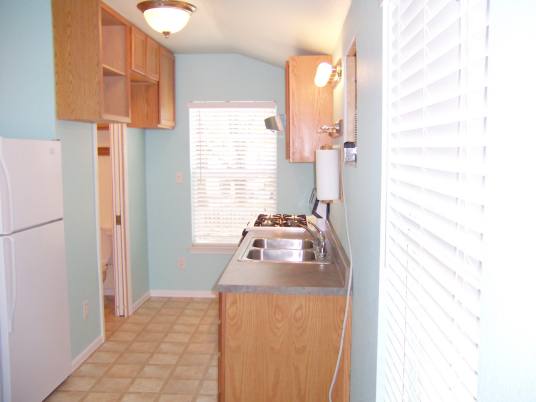 Switch next to window is for halogen flood light outside.

---
End View of Kitchen - Another View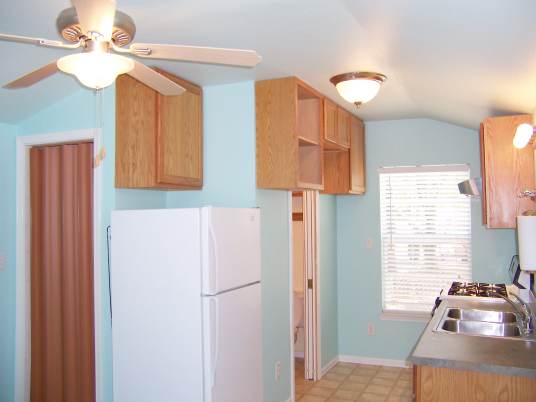 Entrance to bathroom with pocket door open.

---
End View of Kitchen - Third View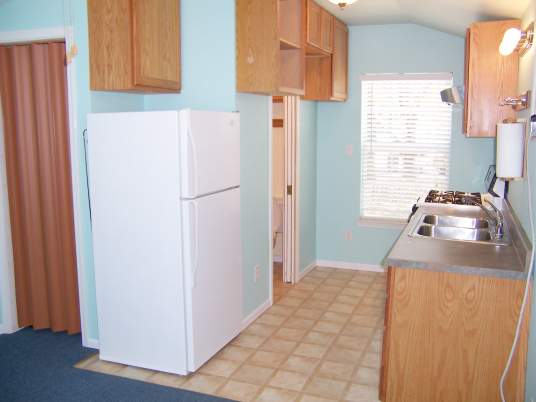 One piece vinyl flooring was installed before cabinets. This means it will not come loose and protects subfloor in case of water leaks.

---
Full Size Sink with Garbage Disposal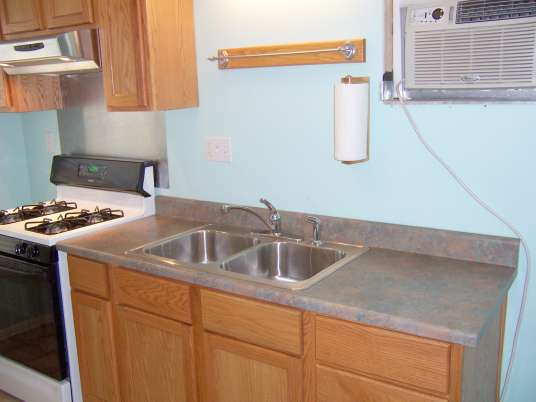 Switch for kitchen lights and garbage disposal. Also GFCI outlet.

---
Air Conditioner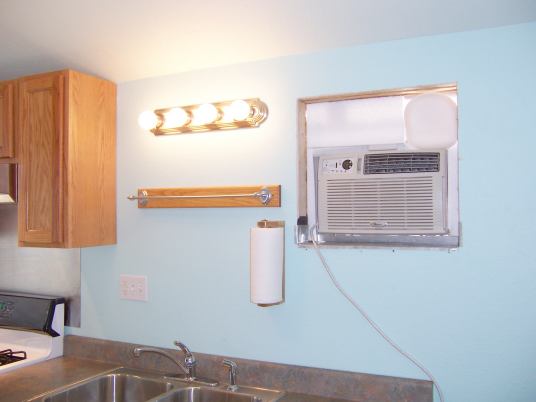 OK. We got lazy and still need to trim this opening to look good. Our excuse is that the AC was not needed for the first nine months and was added later in a hurry.

---
Gas Range and Vented Hood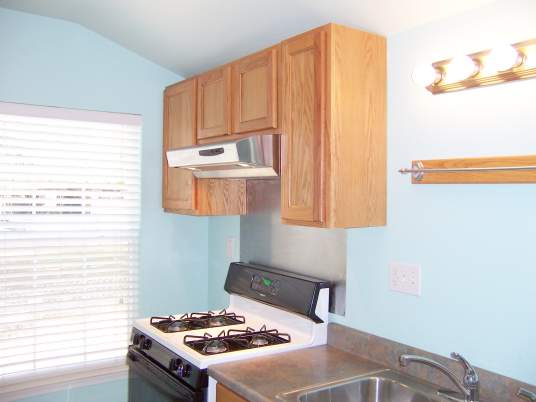 Gas stove is self-cleaning and has a top mounted broiler that lets you broil in the regular oven with the door closed. Bottom drawer of oven is for storage only.

---
Gas Range and Vented Hood - Another View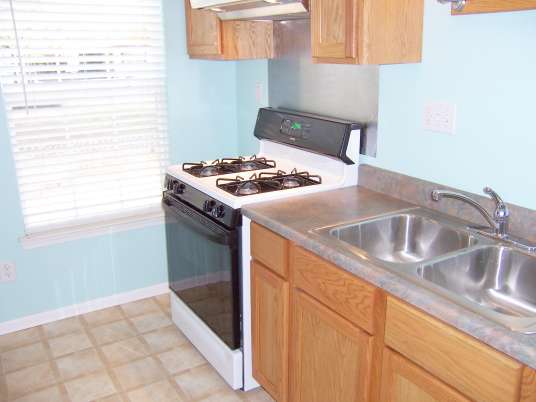 Stove has pilotless ignition and sealed burners.

---
Bath with Towel Rack and Cabinet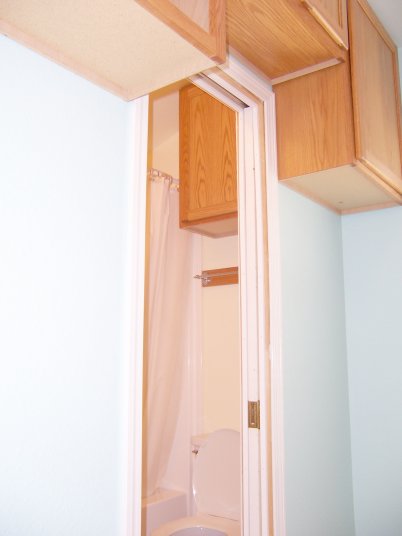 Bathroom has matching towel rack and linen cabinet for towels and supplies. Cabinets and accessories match kitchen.

---
Full Size Fiberglass Tub and Shower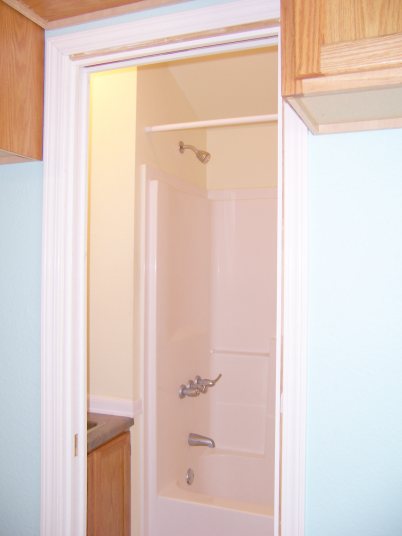 One piece fiberglass tub and surround for easy cleaning and no caulking or grout to repair and replace. Tub has non-slip pebble like surface on bottom that is easy to clean unlike many non-slip surfaces.

---
One Piece Tub for Easy Cleaning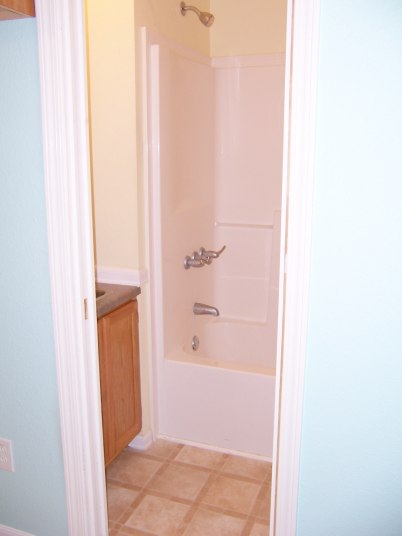 Tub has built in handle and shelf for supplies and shelf for soap.

---
OUTSIDE - Side View 2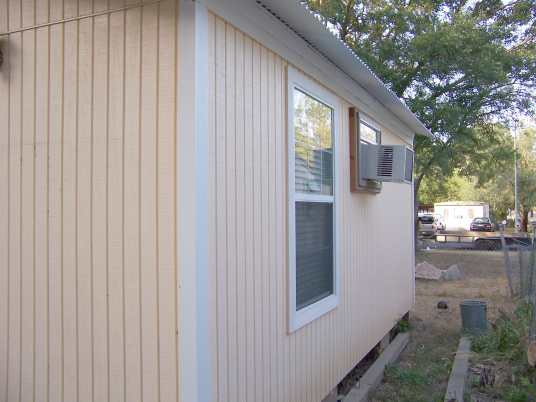 Air Conditioner

---
Refrigerator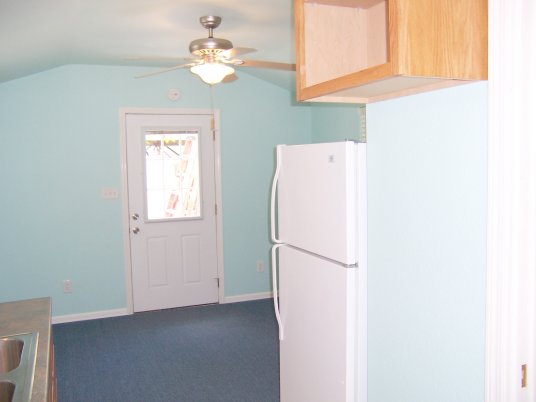 Refrigerator/freezer. Ice maker easily added to water supply line from bathroom.

---
Stainless Steel Backsplash Behind Stove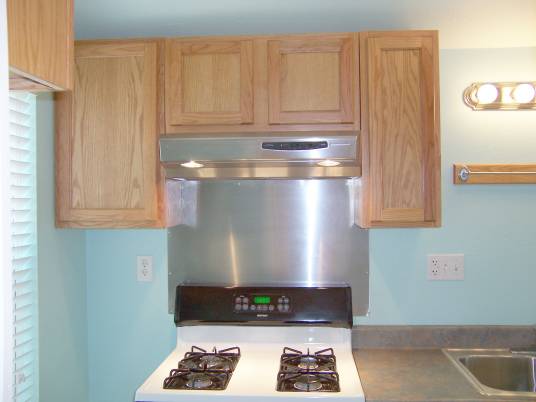 Stainless steel backsplash behind stove is easy to clean. No peeling paint or need for Kilz.

---
OUTSIDE - Entrance View 2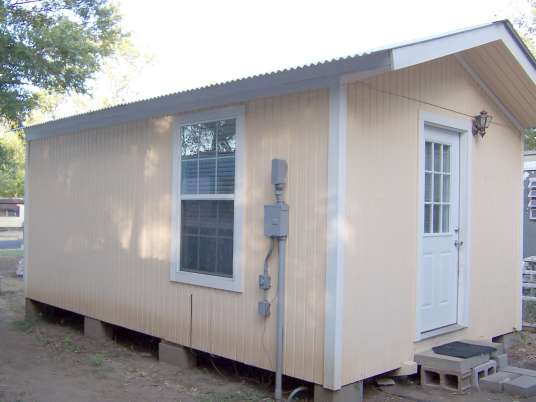 Motion sensor light at entrance.

---
OUTSIDE - End View 2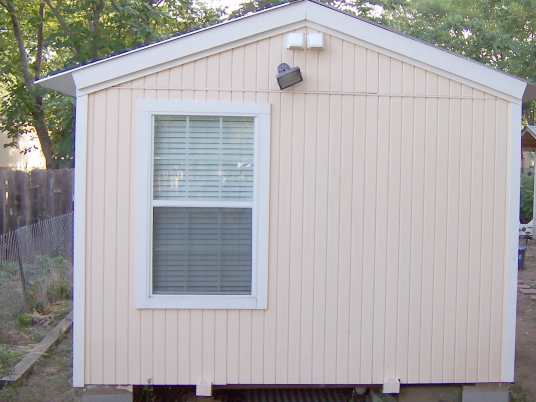 Skids for moving building at bottom (two).

---
OUTSIDE - Side View 1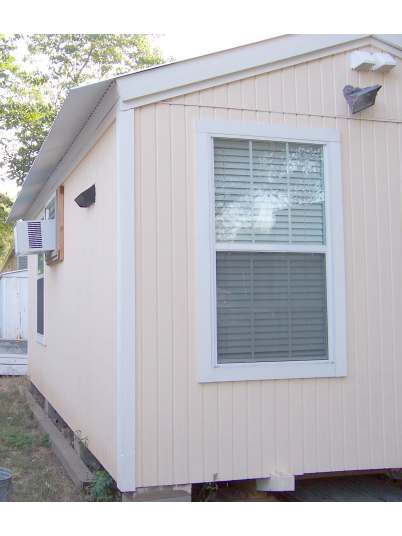 Black vent is from stove hood. White vents on end are bath fan and a plumbing vent.

---
OUTSIDE - Galvalume Metal Roof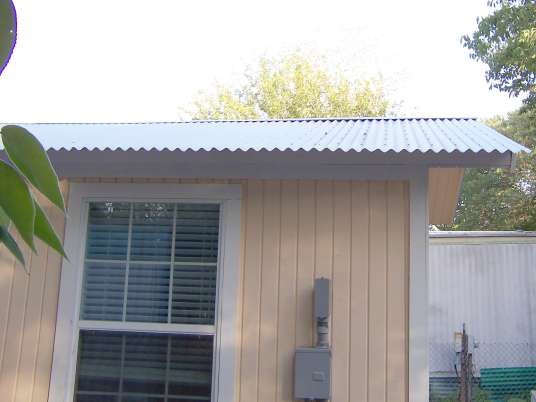 Commercial Grade Galvalume Roof. This corrugated metal has taller peaks and deeper valleys to handle more water without leaks. It is also a heavier gauge metal than what they sell in most hardware stores.

---
OUTSIDE - End View 1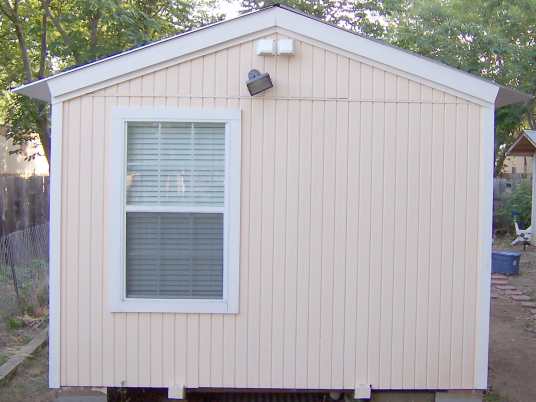 Has 4 inch on center grooved T-111 wood siding. Plywood siding is much better for portable buildings since it braces walls but is flexible enough not to break like cement siding.

---
Stainless Steel Sink in Bathroom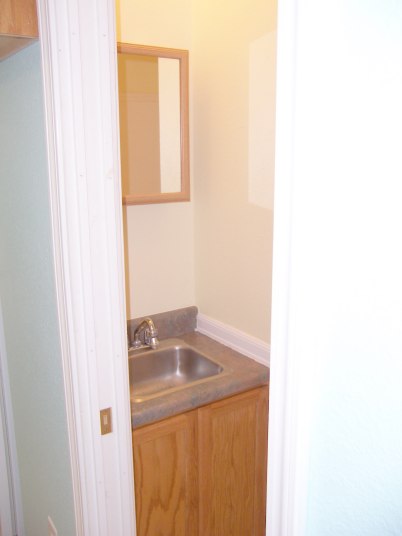 ---
Vanity Top Matches Kitchen Countertops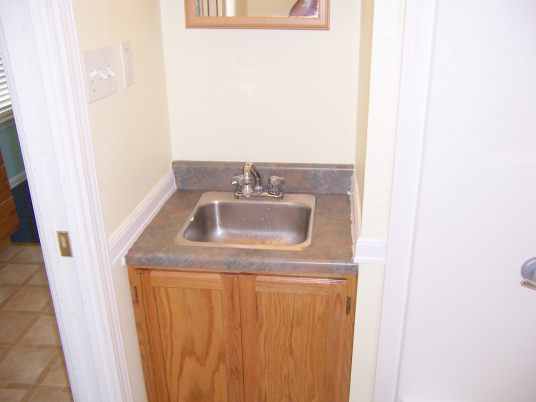 ---
Medicine Cabinet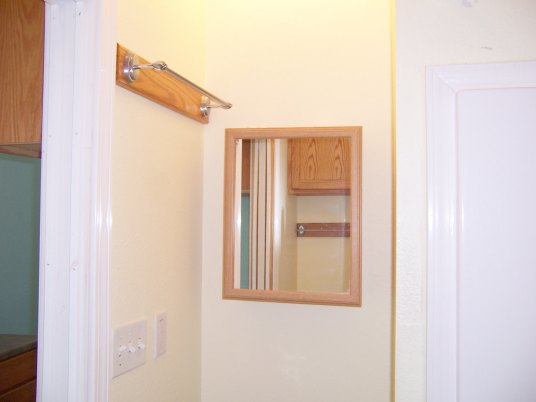 ---
Oak Vanity Matches Kitchen Cabinets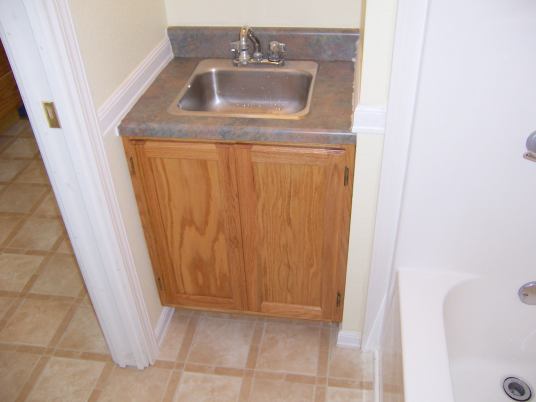 ---
Pocket Door Closed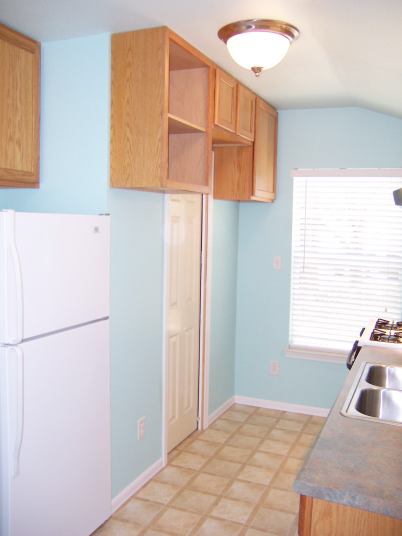 ---
Living Room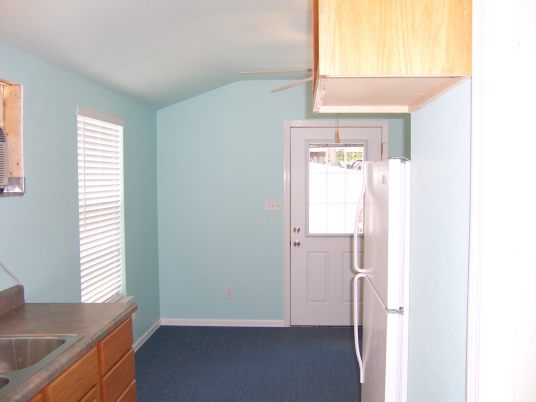 ---
Living Room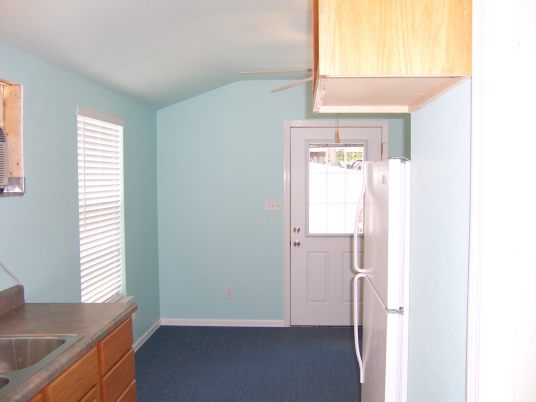 ---
Closet - Another View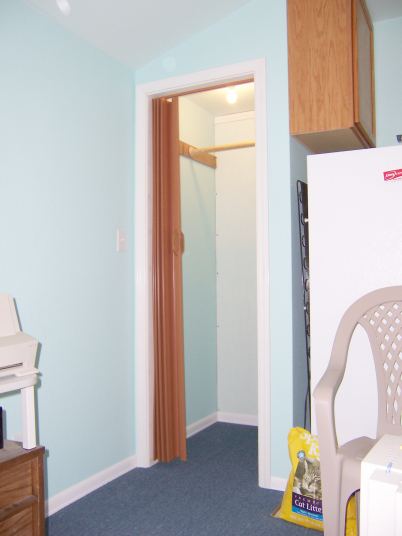 Closet has its own light and switch.

---
Oak Cabinets In Kitchen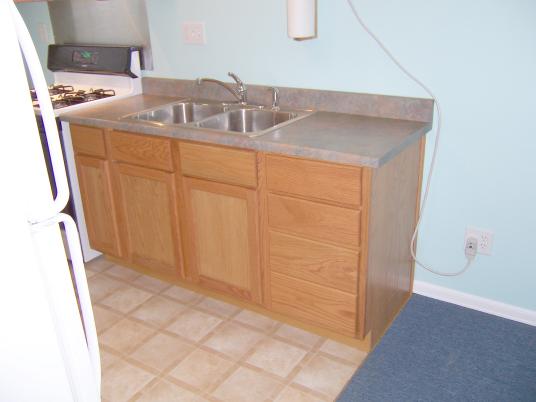 ---
GFCI Outlet and Switches for Heat, Vent and Light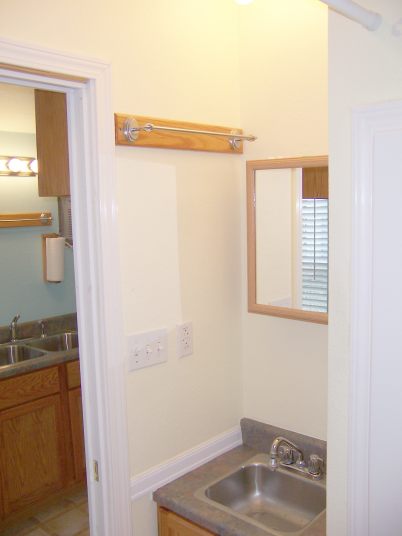 ---
Self-Cleaning Gas Range with Top Broiler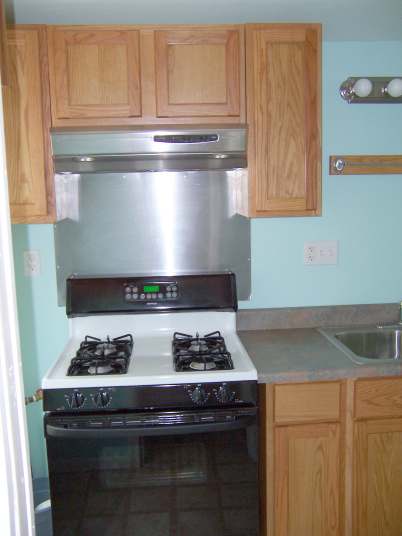 ---
Cathedral Ceilings Throughout, Including Bath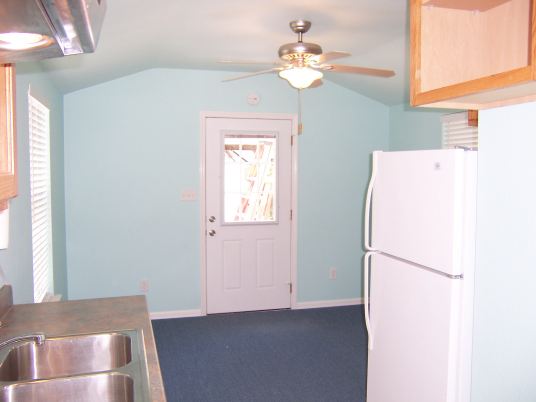 Vaulted ceilings keep overall outside height of building lower while allowing full 8 foot high ceilings inside.

---
Dedicated Circuit and Outlet For AC Unit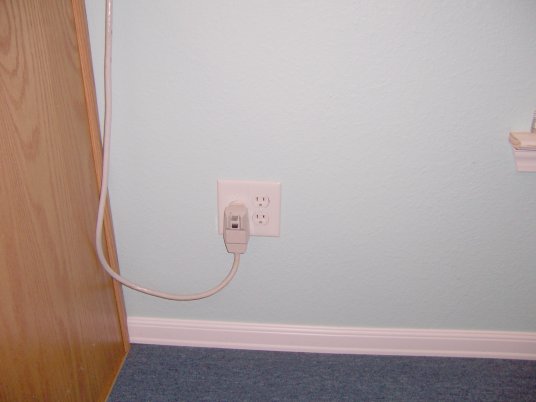 We ran a separate circuit with its own outlet and circuit breaker for the AC and for an electric space heater. This prevents burnt up outlets that are commonly seen for window units that share a circuit and have cheap outlets. The plugs next to it are on a different circuit.

---
Deluxe Heat, Vent and Light in Bath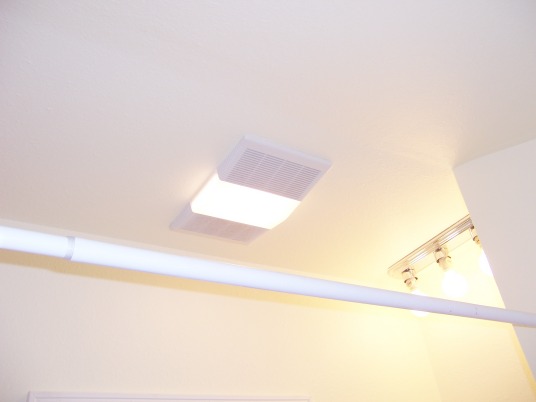 Heater side blows hot air. Heats up bathroom really quick. Exhaust fan is vented outside.

---
OUTSIDE - Entrance View 1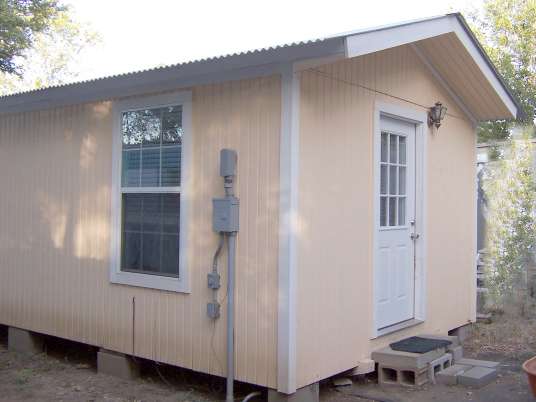 Electrical panel and outside GFCI outlet. Also has 240 volt outlet for compressors and other tools.

---